Tour Bus Crashes Into Big Rig in Desert Hot Springs; 13 dead, 31 Others Injured
Tour Bus Crashes Into Big Rig in Desert Hot Springs; 13 dead, 31 Others Injured
October 23, 2016
Tour bus returning from an overnight trip to a casino near the Salton Sea collided with a big-rig truck on Interstate 10 near Palm Springs, officials said.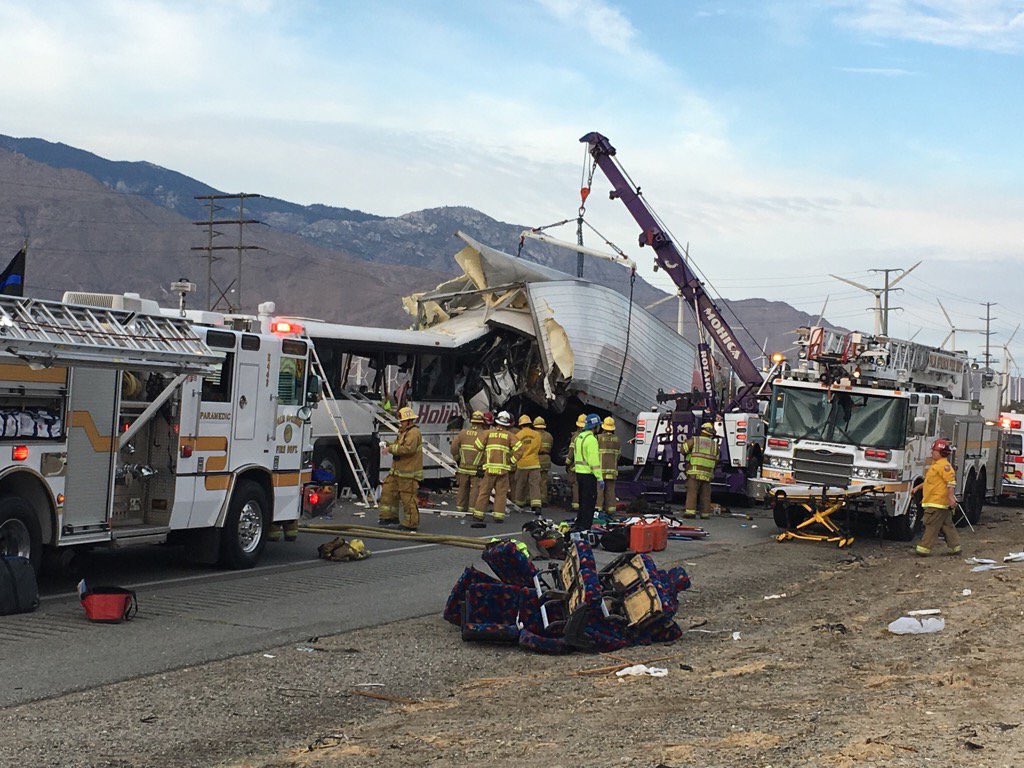 CALIFORNIA: At least 7 killed; 31 injured when a tour bus crashed into the back of a truck on I-10 in Palm Springs area. PHOTOS: pic.twitter.com/WnVRU4IQWN

— KolHaolam (@KolHaolam)

October 23, 2016
Federal and local investigators are probing the cause of the crash, the deadliest in California in several decades. The bus slammed into the rear of the truck at a high rate of speed, and officials say the impact crushed the front third of the bus.
Most of those who died appeared to be at the front of the bus, including the driver.

The crash occurred at 5:17 a.m. on the westbound 10 in Desert Hot Springs as the bus carrying 44 passengers was returning to Los Angeles County, said Chief Jim Abele of the California Highway Patrol.
Identifying the victims and some survivors could take days, he said, because some were not carrying I.D. cards or were separated from their belongings when they were transported to the hospital.

Survivors told authorities they were sleeping and did not recall the moments before the crash.

"Essentially, we just don't have all the pieces to the puzzle," Abele said during a news conference Sunday afternoon. "We may not be able to determine exactly why the accident occurred because the driver has been killed."

Officials had received calls from Mexican, Australian and Japanese consulates Sunday, Abele said. He said the majority of the victims were Latino.

"We're assuming many of them are from Los Angeles because that's where the bus originated," Abele said.
The front of the white tour bus was crumpled inward and largely destroyed by the impact with the truck trailer, suggesting the bus was traveling much faster than the truck, the CHP said, but it's too early to determine whether the driver was speeding.