Bucket Bomb on Tube: Parsons Green Terror Attack in London Injures 22
Bucket Bomb on Tube: Parsons Green Terror Attack in London Injures 22
September 15, 2017
Police have identified the Parsons Green terror suspect using CCTV after an IED attached to a timer exploded on a rush-hour Tube injuring 22, sources have said.
Via The Sun: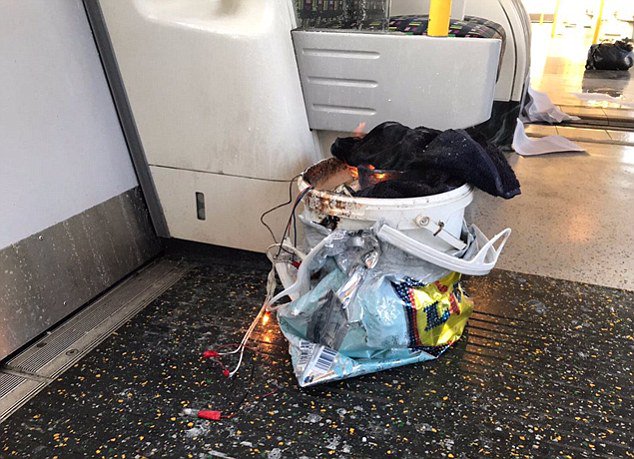 Wires can been seen hanging out of bucket inside a carrier bag on a District Line train.
A homemade bucket bomb connected to a timer sent a "fireball" hurtling through an eastbound District Line tube at Parsons Green around 8:20 am. 
The Metropolitan Police confirmed they are treating the horror as a terror attack and are hunting the suspect behind the blast.
22 people have been taken to four hospitals across London including a young boy believed to have suffered serious burns to his legs.
Train services through the area have been halted and a wide cordon put in place after terrified commuters were injured in a "stampede". 
Theresa May has confirmed the UK terror threat level will remain at severe but security will be beefed up on trains following the "cowardly" attack.
Initial reports falsely suggested a knifeman was on the loose and a second bomb was being detonated.
The homemade bucket bomb device sent a "fireball down a carriage" as it partially detonated with a schoolboy and pregnant woman among those injured in the terror explosion.
Mayor of London Sadiq Khan announced "a manhunt is underway" as bomb squads and counter-terror cops swarmed on the scene.
He added: "The person or people responsible for this attack will be caught and will be brought for justice."
Police have revealed that the homemade bomb, likened to pressure cooker devices used in 2013's Boston Marathon attack, did not fully detonate.
The 2013 bombs, which killed three and injured hundreds, were packed with nails and ball-bearings to cause maximum damage and it is not yet clear if today's device had similar projectiles.
Theresa May is being kept informed of developments after the fifth major terror attack on British soil in six months.
The Prime Minister has chaired an emergency meeting and this afternoon announced the terror threat level will not be raised from severe to critical - although this could change as the investigation continues.
She condemned the "cowardly attack" saying "this was a device intended to cause significant harm".
Today's explosion follows four previous attacks in 2017 which saw five innocent people killed in Westminster in March, 22 killed in the Ariana Grande bombing in Manchester in May, eight killed in the van and knife rampage on London Bridge in June and one man killed when a van rammed into worshippers outside a North London mosque.