Massive Fire Destroys Commercial Egg Farm Belonging to Top US Supplier
Massive Fire Destroys Commercial Egg Farm Belonging to Top US Supplier
January 30, 2023
21 Fire Departments responded to a huge blaze in Connecticut that killed a 100,000 chickens.
Via theblaze.com: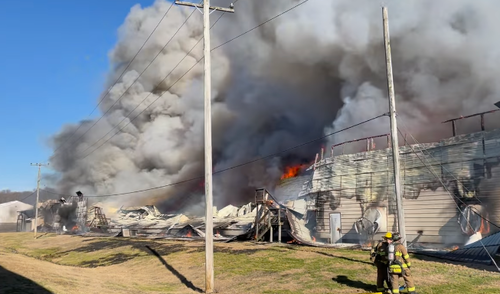 Firefighters spent hours extinguishing a 150-foot-by-400-foot chicken coop at Hillandale Farms, which contained about 100,000 chickens. Norwich Firefighers Local 892
A massive fire engulfed a large egg farm on Saturday. The huge blaze likely killed thousands of chickens, and is expected to exacerbate the current dilemma of skyrocketing egg prices.
Around 1 p.m. on Saturday, a three-alarm fire was reported at the Hillandale Farms property in Bozrah, Connecticut.
WSFB reported that a total of 21 fire departments responded to the three-alarm fire, and it took firefighters eight hours to put out the blaze.
Norwich Firefighters Local 892 said a two-story, 400-foot by 100-foot chicken coop was on fire.
The fire was so large that it could be seen from miles away.
John Way, a safety officer for the Bozrah Volunteer Fire Co., said the coop housed an unknown number of chickens.
Multiple local reports cited the Salvation Army that around 100,000 chickens were killed, but that number has not been confirmed.
No injuries were reported.
The cause of the massive fire at the egg farm was not immediately clear. Authorities are still investigating the blaze.
Wow even Costco is out of eggs. pic.twitter.com/9V4PkR57wz

— Joshua T. Hosler (@JoshuaHosler) December 31, 2022
Hillandale Farms said it raises over 20 million chickens for eggs and is one of the top five egg producers in the country. Hendrix Genetics lists Hillandale Farms as the third-biggest egg producer in the U.S. with 20 million hens.
There have been several major fires at egg farms in the past few years.
In December 2022, a fire caused $12 million in damages and killed a reported 250,000 chickens at a large poultry farm in Lebanon, Pennsylvania, according to WGAL.
In October 2022, approximately 7,000 chickens were incinerated in a farm fire in Lexington, South Carolina.
In February 2020, a blaze at the Michael Foods farm killed approximately 400,000 chickens.
In December 2020, around 240,000 chickens died when a fire burned three barns in Pasco County, Florida. The fire happened at a Cal-Maine-operated egg farm, which is "one the largest producer and distributor of shell eggs in the United States. It sells under brands including Egg-Land's Best and Land O' Lakes," according to CBS News.
The Animal Welfare Institute reported that nearly 1.3 million cage-free hens "perished in potentially preventable barn fires" in 2020.
In December, egg prices skyrocketed 60% more than a year prior, according to Consumer Price Index data.
Don't get caught unprepared as things go south. Order an emergency antibiotic kit with 5 live-saving antibiotics prescribed directly to you by board certified physicians. Use promo code "MONSTER10" for $10 off. Having an emergency supply of antibiotics is crucial for the crazy times we are in.
In California, the average retail price of eggs went from $2.35 a year ago to $7.37 this year, according to the U.S. Department of Agriculture.
The worst outbreak of avian flu on record has caused egg and poultry prices to surge. More than 58 million birds from commercial and backyard flocks have been affected by avian influenza in the past year, according to the U.S. Department of Agriculture's Animal and Plant Health Inspection Service.
Are you ready?