Hurricane Maria's Rampage Demolishes Puerto Rico and Knocks Out the Power Grid
Hurricane Maria's Rampage Demolishes Puerto Rico and Knocks Out the Power Grid
September 21, 2017
Warnings that it may take 4 - 6 months to restore power to the entire island.
Via DailyMail:
The Island of Puerto Rico is without power after Hurricane Maria swept through the U.S. territory Wednesday.
Maria made landfall on Puerto Rico Wednesday morning as a Cat. 4 hurricane with 155 mph winds. 
Dropped to Cat.2 overnight but regained its major hurricane status, rising to a Category 3 early Thursday.
The Turks & Caicos Islands and the southeastern Bahamas will see hurricane conditions Thursday evening.
Before hitting Puerto Rico, Maria battered St. Croix in the U.S. Virgin Islands for about five hours overnight.
Forecasters say it could regain strength and Maria could again become a major hurricane by Thursday.
So far, Maria has been blamed for 10 deaths - one on Puerto Rico, seven on Dominica and two on Guadeloupe.  
Starting To receive images from Puerto Rico. My sister just sent me this. It's from Utuado my hometown. #HurricaneMaria pic.twitter.com/STnSEI9yBm

— Antonio Paris (@AntonioParis) September 20, 2017
Puerto Rico may be without power for months after Hurricane Maria hit the U.S. territory with powerful winds that downed trees, ripped the roofs off homes and turned roads into rivers with flash flooding. 
Gov. Ricardo Rosselló told CNN late Wednesday night that it may take months to restore power to the entire island. 
He said that as a result of the powerful Category 4 hurricane, no one on the island has power from utilities since the power grid is 'a little bit old, mishandled and weak'.   
'It depends on the damage to the infrastructure,' Rosselló said. 'I'm afraid it's probably going to be severe. If it is ... we're looking at months as opposed to weeks or days.'
He added: 'It's nothing short of a major disaster.'
President Donald Trump said the US territory had been 'absolutely obliterated' by the devastating storm. 
He described Puerto Rico as in 'very, very, very perilous shape' and said US emergency authorities were starting to work on helping in the recovery.
My moms friend in Puerto Rico sent us this video she took from her apartment #hurricanemaria #maria #MariaPR #pr pic.twitter.com/TzOvmfrTIC

— TheHungryCondor (@TheHungryCondor) September 20, 2017
The exact impact of Maria won't be realized until authorities can do a flyover on the island to see what remains and what exactly has been destroyed. Rosselló said that if transmission lines are in better condition than thought, then power outages could be fixed sooner.
Rosselló also said that at least one person was killed in the storm on the island when a board was ripped from a house it had been nailed to and struck a man. He said that the number of deaths could increase in the next few days.
'We still don't have a lot of information,' he said. 'We're virtually disconnected in terms of communications with the southeast part of the island.'
Though the storm had moved back out to sea, authorities early Thursday declared a flash flood warning for all of Puerto Rico as 'torrential' rains continued to lash the island.
'If possible, move to higher ground NOW!' the National Weather Service station in San Juan said in a tweet, calling the flooding 'catastrophic.'
Puerto Rico was expected to receive 20 to 30 inches of rain through Saturday, with some isolated areas receiving 35 inches, the US National Hurricane Center said.
The rain had turned some roads in the US territory into muddy brown rivers. 
More than 10,000 remained in shelters Wednesday night as the governor has imposed a curfew on the island from 6pm to 6am beginning Wednesday and ending on Saturday morning.
Search and rescue teams began taking to the streets of Puerto Rico, which has a population of 3.3million people, after the storm temporarily weakened to a Category 2 and headed for the Dominican Republic.
By early Thursday, Maria had regained its major hurricane status, rising to a Category 3 storm with maximum sustained winds increasing to near 115 mph with higher gusts. Maria's fierce core is centered northeast of Punta Cana, Dominican Republic. 
It has thrashed parts of the country with heavy rain and high winds as it passes by its coasts.
Lives have been lost. Homes have been blown away or flooded. 3.5 million people in Puerto Rico are without power. https://t.co/vV2vISxfEa

— Franklin Graham (@Franklin_Graham) September 21, 2017
Carlos Mercader, a spokesman for the governor of Puerto Rico, said: 'This is total devastation. Puerto Rico, in terms of the infrastructure, will not be the same. This is something of historic proportions.' 
At least 10 people have died as a result of the storm in the Caribbean after it blew ashore Wednesday morning in the southeast coastal town of Yabucoa as a Category 4 storm with winds of 155 mph.
Earlier Wednesday, Puerto Rico's emergency management director Abner Gomez said: 'Once we're able to go outside, we're going to find our island destroyed. The information we have received is not encouraging. It's a system that has destroyed everything in its path.'
As people waited it out in shelters or took cover inside stairwells, bathrooms and closets, Maria - the strongest storm to hit the island since the Great Depression - brought down cell towers and power lines, snapped trees and unloaded at least 20 inches of rain.
Widespread flooding was reported, with dozens of cars half-submerged in some neighborhoods and many streets turned into rivers. People calling local radio stations reported that doors were being torn off their hinges and a water tank flew away. 
Of the 27 river gauges on the island, 13 of them are in flood. The National Weather Service reported rainfall of between five and 7 inches an hour.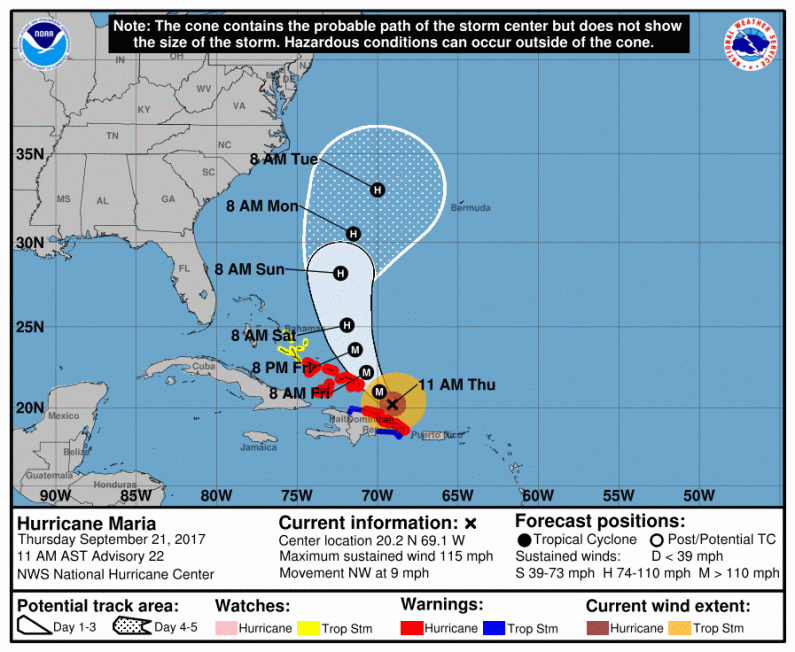 Projected path of Hurricane Maria. NOAA 
Even before the storm, Puerto Rico's electrical grid was crumbling and the island was in dire condition financially.
Puerto Rico is struggling to restructure a portion of its $73billion debt, and the government has warned it is running out of money as it fights back against furloughs and other austerity measures imposed by a federal board overseeing the island's finances.
Rossello had urged people to have faith: 'We are stronger than any hurricane. Together, we will rebuild.'
He later asked President Donald Trump to declare the island a disaster zone, a step that would open the way to federal aid. 
Many feared extended power outages would further sink businesses struggling amid a recession that has lasted more than a decade.