Horror: War Vet Kills 12 in Mass Shooting at 'Borderline' Bar in California
Horror: War Vet Kills 12 in Mass Shooting at 'Borderline' Bar in California
November 8, 2018
Ventura County Sheriff Ron Helus, the first responding officer to enter the bar, was among those killed.
Via dailymail.com:
Ian Long, 28, opened fire at Borderline Bar and Grill in Thousand Oaks at 11.20pm on Wednesday night
He was dressed in all-black and used a legally owned .45 caliber handgun which had an extended magazine
Witnesses said he also let off smoke grenades inside to confuse the terrified crowds as they ran for their lives
In April, police and mental health specialists were called to Long's home after neighbors heard crashes coming from inside
They decided he was not qualified to be committed involuntarily and left him at home with his mother 
Neighbors told DailyMail.com on Thursday that she lived 'in fear' he was going to harm himself  
Long served in the Marines for five years between 2008 and 2013 during which time he was given 10 medals and toured Afghanistan 
After leaving the Marines, he spent three years studying athletic training at California State University Northridge but he dropped out in 2016
A college roommate of his said he was 'mean', a 'loner' and would often dance in their garage alone  
He killed himself on Wednesday in an office in the bar after killing 11 patrons and a sheriff's sergeant who responded 
The gunman who massacred 12 people at a country music bar in southern California on Wednesday night has been identified as an highly decorated ex-Marine. 
Ian Long, 28, opened fire on the Borderline Bar and Grill in Thousand Oaks at 11.20pm. Long had been cleared by mental health experts after an incident in his home in April, sheriffs revealed on Thursday morning.
He killed 11 people inside the bar and one of the first cops on the scene before taking his own life. 
Long's motive remains unclear but neighbors say he was known to suffer PTSD. He served in the Marines for five years between 2008 and 2013, during which time he was awarded 10 medals and toured Afghanistan.  
Survivors from the shooting said he looked 'like he knew what he was doing' as he repeatedly fired his legally purchased Glock .45 handgun on Wednesday night. 
As dozens ran for their lives, hid beneath pool tables and used bar stools to shatter the windows to escape, Long continued firing and also threw smoke grenades to confuse the crowds. 
When the first police officers arrived at the scene three minutes later, Long shot one of them multiple times before shooting himself.
By the time SWAT teams arrived, he was dead. His body was found in an office inside the bar. The sheriff's sergeant who was shot later died in hospital. He was Ron Helus, a 29-year veteran. 
In total, 13 are dead; 11 people who were killed inside the bar, the sheriff's sergeant and the gunman. Long is a former Marine who lived in nearby Newbury Park. 
Ian Long, 28, is the gunman who opened fire on Borderline Bar and Grill in Thousand Oaks, California, on Wednesday. He served in the Marines and is shown in photographs taken before he left armed forces. The circumstances surrounding his departure are unknown.
In April this year, deputies were called to his home amid reports of a disturbance.  He was acting 'irrationally' and was 'irate' so police called in their mental health specialist. They cleared him, deciding against having him committed, and left him at the home.  
It is unclear if he already owned the weapon he used to commit Wednesday's attack or if he bought it after the April incident. Long has no criminal history except from a minor traffic infraction. 
Long served in the Marine Corps for five years between 2008 and 2013 and he toured Afghanistan . 
The circumstances of his departure are not known, but he climbed to the rank of Corporal before he left the armed forces. 
During his time in the Marines, he was awarded numerous awards including two Navy Meritorious Unit Commendations, a Combat Action Ribbon, the Marine Corps Good Conduct Medal, two Sea Service Deployment Ribbons, the Afghanistan Campaign Medal, the Global War on Terrorism Service Medal; the National Defense Service Medal and the NATO Medal-ISAF Afghanistan. 
A spokesman for the Marines declined to give information surrounding his discharge in 2013, telling DailyMail.com that they were bound by privacy laws and unable to reveal what prompted him to leave. 
After leaving the Marines, he took a job with California State University Northridge where he attended classes as a student until 2016.
Blake Winnett, who claims to have shared an apartment with him in 2014 while he was a student there, told The New York Post that he was a 'loner' who danced alone in their garage. 
'He didn't want to help anyone do anything. He was just lazy I guess,' he claimed, adding that he once responded: 'That's not my f****** job' when Winnett asked him to take out the trash. 
'He wasn't violent but he was mean. He would go to the gym and then he would, I guess, try to learn dance moves or something.
'He would close the garage and be playing music and dancing in there, like sweating. I would open the garage and would be like, "What are you doing?"' he said.   
Long dropped out of the university in 2016 after three years. He had been studying athletic training. Sometime after dropping out of college, he returned to his mother's home in Newbury Park. 
One neighbor told DailyMail.com that his mother 'lived in fear' that something would happen to him. 
Richard Berge lived around the corner from alleged shooter Ian David Long and had taken care of the family's dogs. 
Berge, 77, said Long had smashed furniture and kicked in walls inside the family's house and that his mother, Colleen, was afraid the problem would escalate.
'She lived in fear in case something happened,' Berge told DailyMail.com. 'He wouldn't get help. She was beside herself and didn't know what to do.'
He and other neighbors described an incident in April this year, when a neighbor called the police after hearing loud crashes coming from Long's house.
Berge said multiple police cars rushed to the home and found Long had kicked holes in the walls and broken furniture.  
Berge said that all the neighbors believed Long was suffering from PTSD.
The house was surrounded by police and FBI officers, and cordoned off with red crime scene tape by Thursday morning.
Officers were waiting Thursday morning for a judge to sign a warrant to search the home. Long's mother's red truck sat in the driveway. 
He used another vehicle of hers to get to the Borderline Bar and Grill.  Long had modified his legally purchased handgun so that it could hold more rounds. 
'The handgun is designed to hold 10 rounds and one in the chamber. This weapon did have an extended magazine on it.
'We do not know at this time how many the magazine could actually hold because it's still being processed,' Ventura County Sheriff Geoff Dean said on Thursday, adding he had 'no idea' what his motive for the attack was.  
In addition to the 12 people he killed, '10 to 15' victims were injured.
According to survivors, Long was dressed in all-black, wearing a baseball cap, sunglasses and a mask covering the bottom part of his face. He walked up to the entrance at 11.20pm and shot the bouncer before making his way into the venue. 
He then shot a young female cashier before throwing smoke grenades onto the dance floor and letting off rounds into the crowd. 
Survivors described how he carried the attack out with careful precision and said he had 'perfect form' when shooting.  
The bar is popular with college kids because it allows under 21s in on Wednesday nights. Those who were not old enough to drink had black X's stamped on their hands. 
Pepperdine University confirmed on Thursday morning that some of its students were among those in the bar. It is unclear if they were among those killed.  
'The University has determined that multiple Pepperdine students were on site at Borderline Bar and Grill in Thousand Oaks. At this time, the University is working to identify and provide support to those students.
A spokesman for California Lutheran University told DailyMail.com: 'The Cal Lutheran community is grieving over what happened last night. We know some of our students were there.
'We are waiting for more information from law enforcement. We have canceled classes, but the campus is open and all offices will be open. Our chapel is open for anyone who wants to gather. '  
On Thursday morning, President Trump tweeted about the mass shooting, saying: 'I have been fully briefed on the terrible shooting in California.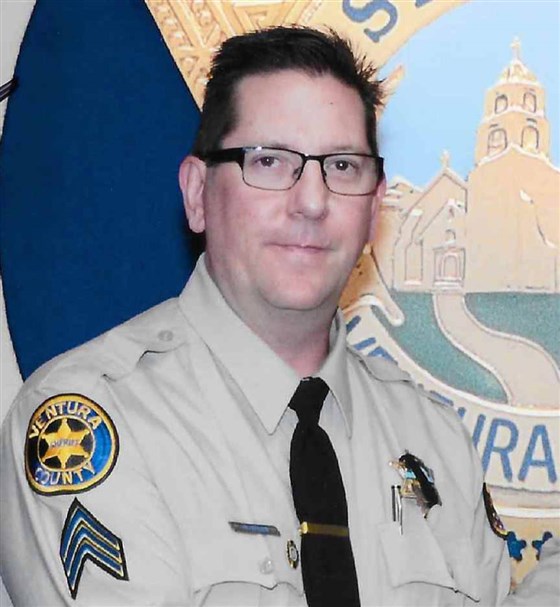 Ventura County Sheriff Ron Helus was among those killed. He was shot multiple times by the gunman after responding to the first 911 calls and later died in hospital. ODMP
Law Enforcement and First Responders, together with the FBI, are on scene. 13 people, at this time, have been reported dead.
'Likewise, the shooter is dead, along with the first police officer to enter the bar. Great bravery shown by police. 
'California Highway Patrol was on scene within 3 minutes, with first officer to enter shot numerous times. 
'That Sheriff's Sergeant died in the hospital. God bless all of the victims and families of the victims. Thank you to Law Enforcement,.'
Ventura County Sheriff Geoff Dean said the scene was the worst he had seen in 41 years. 
'It's a horrific scene in there, there is blood everywhere and the suspect is part of that, and I didn't want to get that close and disturb the scene and possibly disturb the investigation. 
'This, by far, is the most horrific thing I've seen in my 41 years,' he said. Dean was due to retire on Thursday, the day after the shooting. 
He and Helus were friends and worked out together. 
Paying tribute to him, he said: 'Ron was a hardworking dedicated sheriff's sergeant. 
'He was totally committed, he gave his all and tonight, as I told his wife, he died a hero; he went into save lives, to save other people.'  
Classes at California Lutheran, which is also nearby, were cancelled. 
People were hiding from the shooter in bathrooms and attic spaces, while others who managed to escape fled to nearby gas stations for medical help. 
Terrified dancers used bar stools to smash the windows so that they could climb out and flee. 
Witnesses said the gunman said 'nothing' as he opened fire and was composed throughout the massacre. 
'I was just dancing normally and I heard what I thought was a balloon pop. I was confused then I heard it a couple more times then I turned around and I saw him. 
'I ran to the nearest exit and tripped and fell on the way I knocked on as many doors as I could until someone would answer me and finally someone did. 
'It was awful,' Taylor Von Molt, a promoter for the club, told CNN. 
She said the gunman's mask looked like a bandanna and was covering the bottom of his face. 
'He had a black mask, it looked like a bandanna, on the bottom of his face, sunglasses dark hoodie, dark jeans. He was kind of bigger, more burly. Scary,' the 21-year-old said. 
Teylor Whittler, another witness, said the gunman had 'perfect form' and 'looked like he knew what he was doing.' 
'I saw three people get shot by him. 
'As soon as he walked in, he had perfect form. I'm born in a military family and I've been around guns my entire life so I know a bit about them.
'He looked like he knew what he was doing.
'He had practiced, he had been shooting before,' she told Fox News.  She added that while the bar was popular among students, it attracted patrons of all ages. 
'College students go there, high school seniors go there, elderly people go there. Everyone who loves country goes there,' she said.
The bar (on a normal night) is popular among country music and dancing fans.
Among the survivors is a member of the Navy who led others out of the windows after smashing the windows with bar stools. 
'We heard a lot of screaming and we dropped to the ground. My friend is a DJ, she cut the music. 'My first instinct was to smash the window. We jumped out,' he told KTLA.  
Several minutes after the gunman opened fire, a SWAT team arrived and found the 11 victims dead inside. 
Several people are still unaccounted for including 22-year-old Cody Coffman whose father Jason flocked to the bar after he heard the news to find him.
Other parents have done the same and have used looked to their kids' iPhones locations to try to find them. Their devices are still inside the bar and they have not been heard from since the shooting happened.
'I want my son. I want to know. I'm not.. if the Lord took him away, we know that he's in a better place but if he's not, please let us know. Let me know.
'I am clueless on what's going on,' Cody's father Jason wept outside the bar.  
There were 100 people inside the bar when the gunman opened fire, police said, and the number of casualties is 'very likely' to go up. 
One witness told ABC7: 'I was at the front door talking to my stepdad. I heard these big pops.
'There were three or four and I hit the ground. The security guard was dead and the man had a handgun. He threw in smoke bombs and he kept firing. People threw chairs out of the windows to try to get away.
'The gunman had glasses and a black jacket. He had a big hand gun.' 
Another witness said: 'This maniac came in. Threw in smoke to confuse people and opened fire on the dancefloor. He's taken many young lives.
Witnesses reported a horrifying scene as gunfire echoed through the club and those inside ran for cover, in some cases breaking windows with chairs and other pieces of furniture to get out of the building.  
Local hospitals have been inundated with victims who've transported themselves to emergency rooms with injuries seeking medical help.