Biden Orders US Reserve Armed Forces to Active Duty to Support NATO Operations in Europe
Biden Orders US Reserve Armed Forces to Active Duty to Support NATO Operations in Europe
July 13, 2023
President Joe Biden signed an order on Thursday allowing the Pentagon to call up as many as 3,000 reserve troops to support Operation Atlantic Resolve in Europe.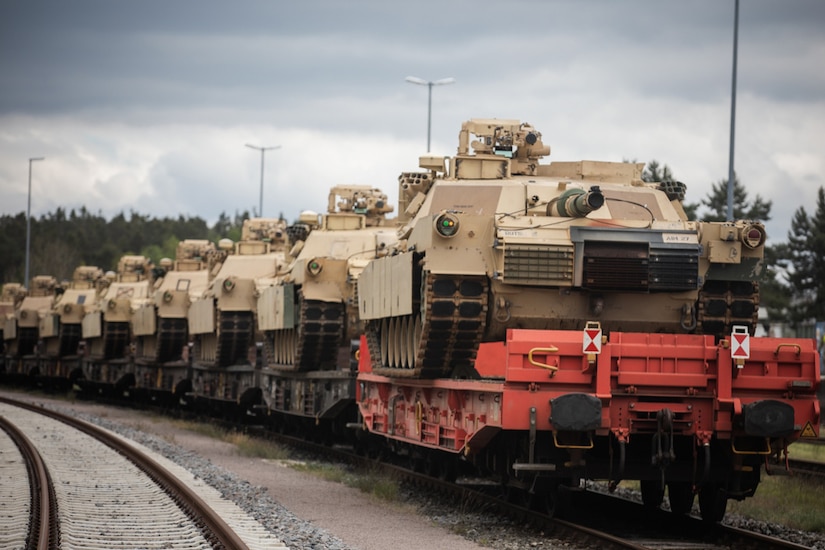 M1A1 Abrams tanks arrive in Grafenwoehr, Germany, May 13, 2023. The tanks will be used to train Ukrainian forces. 
Photo By:Army Spc. Adrian Greenwood
Operation Atlantic Resolve began in 2014 in response to the Russian annexation of Ukraine's Crimean peninsula and it "provides rotational deployments of combat-credible forces to Europe to show our commitment to NATO while building readiness, increasing interoperability, and enhancing the bonds between ally and partner militaries," per U.S. Army Europe and Africa's website.
While Biden's order provides the Pentagon with the authority to call up troops, DOD did not make it immediately clear as to whether they would, in fact, call up additional reservists.
Last year, the administration increased the troop presence in Europe by about 20,000 troops as Russian President Vladimir Putin ordered his forces to invade Ukraine, bringing the total U.S. force on the continent to approximately 100,000.
"The designation of OAR as a contingency operation is an important demonstration of the U.S. commitment to our NATO Allies and partners," U.S. European Command Spokesperson U.S. Navy Capt. Bill Speaks said in a statement. "It further provides US EUCOM with greater flexibility to support continued U.S. and Allied commitments to the defense of the Euro-Atlantic and allows us to provide key entitlements to the forces who support those commitments."
The operation will now be designated as a "contingency operation," Joint Staff Director for Operations Lt. Gen. Douglas A. Sims told reporters on Thursday. "This new designation benefits troops and families with increases in authorities, entitlements, and access to the reserve component forces and personnel based on the level of presence and operations in the US EUCOM area of operation."
The majority of our pharmaceutical supplies for antibiotics are sourced from China. Don't get caught unprepared as things go south. Order an emergency antibiotic kit with 5 live-saving antibiotics prescribed directly to you by board certified physicians. Use promo code "MONSTER10" for $10 off. Having an emergency supply of antibiotics is crucial for the crazy times we are in.
The U.S. has provided Ukraine with more than $40 billion of military aid since Russia invaded nearly a year and a half ago.
Most recently, the administration went against its previous stance and decided to provide Kyiv with cluster munitions, a specific type of munition that poses such a threat to civilians that its use and the transfer of them have been banned by more than a hundred countries.
President Biden agreed last week to provide cluster munitions to Ukraine because the country's rapid use of other munitions had begun depleting U.S. stockpiles. Sims confirmed on Thursday that U.S. cluster munitions have reached Ukraine.
Are you ready?