Backlash as Biden Admits Sky Rocketing Energy Prices Are Part of "Incredible Transition" to Green Energy
Backlash as Biden Admits Sky Rocketing Energy Prices Are Part of "Incredible Transition" to Green Energy
May 24, 2022
Joe Biden drew a biting rebuke on Twitter and Fox News after saying that record-high gas prices are part of an "incredible transition" away from fossil fuels.
Don't get caught unprepared as things go south. Order an emergency antibiotic kit with 5 live-saving antibiotics prescribed directly to you by board certified physicians. Use promo code "MONSTER10" for $10 off. Having an emergency supply of antibiotics is crucial for the perilous times we are in.
Via Newsweek.com:
Biden made the comment during a press conference Monday in Tokyo, Japan, as part of a diplomatic trip to Asia. The president's foes quickly pounced on the comment as proof that Biden's clean-energy policies were woefully out of touch and harming the American public with heightened gas prices.
Joe Biden: "When it comes to the gas prices, we're going through an INCREDIBLE transition" pic.twitter.com/8TGnc7vFa8

— RNC Research (@RNCResearch) May 23, 2022
We've launched a major effort to reduce the price of gas at your corner gas station.pic.twitter.com/pm9ACpnCwX

— Joe Biden (@JoeBiden) November 24, 2021
Appearing at a press conference with Japanese Prime Minister Fumio Kishida, Biden was asked by a reporter if Americans should expect a recession as gas prices remain high and the Federal Reserve has raised interest rates to rein in historically high inflation.
Biden said he didn't expect a recession, pointing to the low unemployment rate and how America's economy is growing faster than China's for the first time in decades. While Biden acknowledged the U.S. has problems, he said they are "less consequential than the rest of the world has because of our internal growth and strength."
"And when it comes to the gas prices, we're going through an incredible transition that is taking place that, God willing, when it's over, we'll be stronger and the world will be stronger and less reliant on fossil fuels when this is over," said Biden.
The national average price for a gallon of regular gasoline was $4.56 on Monday. In California, gas was pricier at $6.06 per gallon. In some places, a gallon costs more than the federal minimum wage of $7.25 an hour.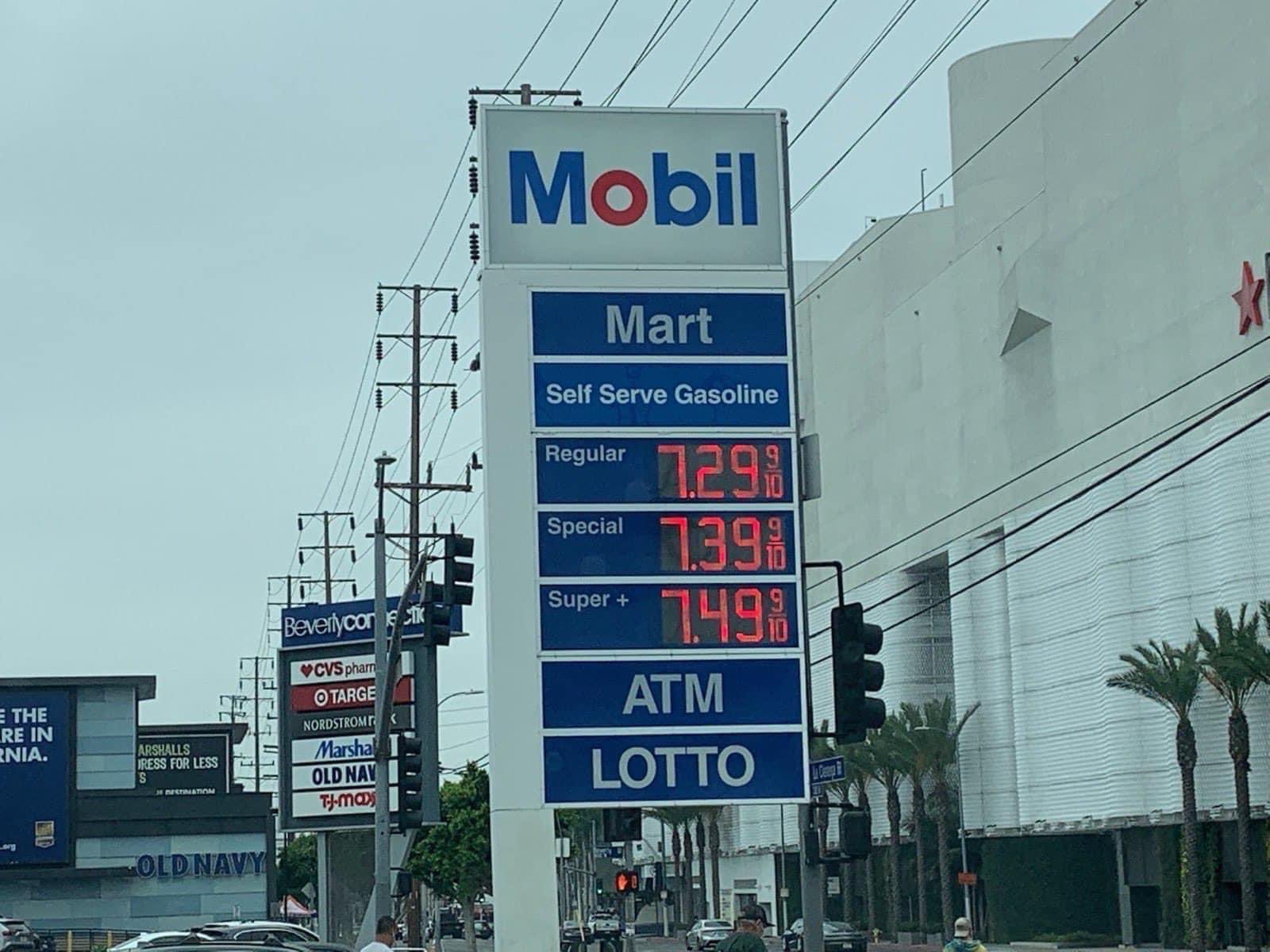 Gas Prices in Los Angeles today, May 24, 2002.
Regular Gas Prices, % Change from 1 Year Ago
Source: AAA
Texas Senator Ted Cruz said on a Fox News appearance that Biden wasn't troubled by the high price of gas.
"He's in Tokyo celebrating, saying 'it's an incredible transition,'" Cruz said. "Incredible for you! You fly a damn 747 where the taxpayers pay for your jet fuel. What Joe Biden is saying is, if you at home, if you drive a pickup truck, 'to hell with you; you can't drive your pickup truck. If you have a Suburban, you've got to get rid of that. We're all getting Toyota Priuses.'"
Florida Senator Rick Scott said on Twitter that Biden was celebrating Americans struggling to make ends meet.
Other critics of the president also weighed in on Twitter.
"How can the average person afford an $80k electric vehicle?" asked Twitter user Hawkc.
Twitter user Sifrit Raesmusen said, "I identify my car as one that runs on hopes and dreams, so I'm good."
Twitter user Jose Ortega came to the president's defense, writing, "Gas prices are up all over the world, has nothing to do with Biden."
Other Twitter users brought up the 2022 midterm elections.
"Remember this and remember you can help create an incredible transition this November," Twitter user zulupapaquebec wrote. "And an even more incredible one in 2024."