Arctic Cold Blast Chills Heartland, Eastern, and Southern United States
Arctic Cold Blast Chills Heartland, Eastern, and Southern United States
December 27, 2017
People will really need to bundle up if they are heading out Sunday night for New Year's Eve celebrations.
Via AccuWeather.com:
Brutally cold weather will soon be refreshed as another bout of arctic air dives through the United States.
The new frigid blast will make its way from the northern Plains to the eastern and southern U.S. Sunday into Monday.
Although arctic air is expected to ease later in the week, any relief will be minimal and short lived.
Temperatures in Minneapolis are forecast to fail to exceed zero F over the weekend.
"Bitterly cold arctic air will settle in across a large swath of the U.S. as we turn the calendar from 2017 to 2018," said AccuWeather Senior Meteorologist Dan Pydynowski.
Live Chill Map. Plymouth State Weather Center
"People will really need to bundle up if they are heading out Sunday night for New Year's Eve celebrations in places like Chicago, for example, where the high will be 15 F on Sunday, around 15 degrees below normal," he warned.
Cities as far south as Nashville and Atlanta will experience temperatures over 20 degrees Fahrenheit below average by the end of the weekend, where high temperatures are expected to remain below 30 F.
Frigid weather is expected to reach the Big Apple just in time to chill those visiting Times Square, though the record low of minus 4 F from 1918 will not be challenged.
"It could be near 11 F in Times Square when the ball drops on Sunday night in New York City, with AccuWeather RealFeel® Temperatures below zero," Pydynowski said.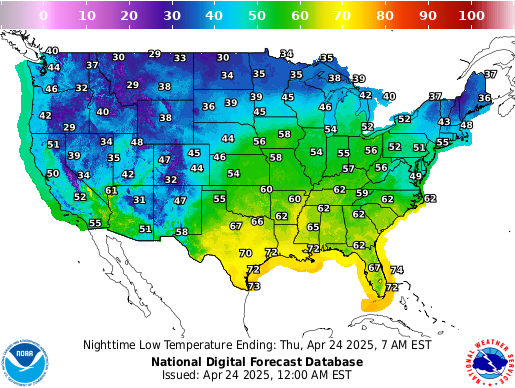 NOAA's National Weather Service Forecast
At that level the temperature may be within the top two lowest since records have been maintained in the 1800s. In 1962, the temperature at midnight on New Year's Eve was 11. The only lower midnight temperature at the brink of the new year was in 1917, when it was 1 F in Midtown Manhattan.
These conditions will be dangerously cold, especially for those spending many hours outdoors overnight across the majority of the eastern two-thirds of the country.
Consuming alcoholic beverages increases the risk of hypothermia, if not alert and properly dressed.
In Atlanta and Chicago, it will be the coldest New Year's Eve since welcoming in 2010, when the temperature bottomed out at 29 and 5 F, respectively.